My artistic practice is interested in the relationship between body and landscape, in the possibilities of encounter between gesture, ritual and nature. As a multidisciplinary artist I experiment with different languages in search of a way of saying and building worlds in the world, but my saying always starts from the body. Thinking of the body as skin, bone, blood, but also as memories, thoughts, pains, ideas, urgencies, presence; body as all that we are and that is in transit of being or being constructed. Always in relation, not as something fixed and finished, but in the potential of being.
Performance art and body memories are the common thread and starting point of my projects that include videos, photographs and installations. From the biographical space, I develop performative self-portraits that can derive in actions, still or moving images or gestural objects. I also use writing as a documentation of doing and as a production of thought.
I consider artistic practice as a form of knowledge and as a praxis of freedom. I understand art as a way of performing life, as an insistence to extend oneself in the landscape and to meet others, as a way to perform one's own history. In my work, I am interested in constant artistic research and the possibility that my production grows in parallel to my own growth and the course of life.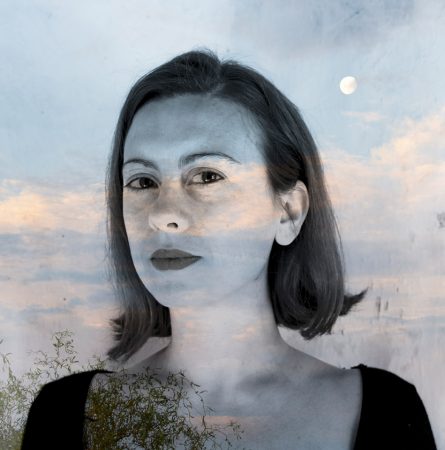 Roma Vaquero Diaz (Pergamino, Argentina)
I am a multidisciplinary artist, performer and researcher. I have a Master in Combined Artistic Languages (Universidad Nacional de las Artes) and I have a degree in Performing Arts (Universidad Nacional de Rosario). My projects include performance, installation, photography and audiovisual. I consider artistic practice as a form of knowledge and as a praxis of freedom.
I was selected to participate in residencies: Listening to photography. Artexarte Gallery, Buenos Aires. (2021); PAC Project, Gachi Prieto Gallery, Buenos Aires (2021); La Flecha, Capitán Sarmiento (2020 – 2019); Originario, Cura Malal (2018).
I made the following solo exhibitions: How many bodies go into one body, Olla Roja Gallery, Buenos Aires (2022); We are not not territory of conquest, Emilio Pettoruti Provincial Museum of Fine Arts, La Plata (2019); La Cosahecha, City Museum, Pergamino (2012).
I have participated in group exhibitions in Argentina, Chile, Uruguay, Ecuador, Venezuela, Mexico, Colombia, United States, Spain, Belgium and India. Among these are Cherry Street Pier (Philadelphia); Gachi Prieto Gallery (CABA); Kirchner Cultural Center (CABA); Sensistan Museum, (Goa, India); Espacio Idea MEC (Montevideo); Haroldo Conti Memory Cultural Center (CABA); Jacobo Borges Museum (Caracas); San Martín Cultural Center (CABA).
From 2011 to date I attend workshops, seminars and art clinics, among them Performance workshop with Maricel Álvarez coordinated by Gachi Prieto Gallery, Buenos Aires (2021); Video performance given by Verónica Ruth Frías in online format from Rara Residencia, Villanueva del Rosario, Málaga (2020); Clinic: The photographic letter dictated by Eduardo Stupía in Imaginary Project, Buenos Aires (2020); Photographic gaze with Valeria Bellusci, Stories in the palm of the hand, Buenos Aires. (2019); Seminar: P(h)o(n)etics: poetics of sound – sounds of poetry, coordinated by Léonce Lupette and Alan Courtis, Universidad Nacional de las Artes, Buenos Aires (2016); Art laboratory, artistic production clinic, coordinated by Juan Carlos Romero and Hugo O. Masoero, UNNOBA and Emilio Pettoruti School of Visual Arts, together with the collective Nobody forgets anything, Pergamino, Buenos Aires (2011 – 2015).
I have published articles in magazines and cultural portals, including Sudestada Magazine and Le Monde Diplomatique. I am the author of the book How many bodies go to into one body (Editorial Flanbé, 2020), and co-author of the book Women of Kurdistan. The revolution of the daughters of the sun (Editorial Sudestada, 2017).
Since 2017 I have been directing Mundo Performance, a platform that contains an editorial project, training and research proposals, and collective calls for proposals. 
I live and work in Buenos Aires where I give workshops on performance art, autobiography and project accompaniment.

Mundo Performance is a research and creation platform in relation to performance art and contemporary art that embraces an editorial and media project, training and research, organizes calls and exhibitions, activates the Latin American Performers Network and has a digital store. Born in 2017, it was mutating, growing and building new networks, under the coordination of the Argentine artist Roma Vaquero Diaz. It was joined by the work and editing team, and the participation of artists and collaborators from different territories and disciplines. Currently and territorially, we are located in the City of Buenos Aires, Argentina. But we also develop projects that expand these coordinates and take place inside and outside the country, such as curatorial proposals, workshops, investigations, talks, and the Latin American Performer Network. We are interested in producing imaginaries, thoughts and actions in relation to art and artists. Like the possibilities of meeting and producing joint projects, showing that being an artist is not just a doing but a way of going through life.